TH provides engineering studies and services adapted to the needs and specifications of each project, with special emphasis on the main technical and investment issues to better enable us to draw up an effective, profitable solution.
We offer comprehensive engineering services and can provide customers with all round solutions covering the whole process of design, development and implementation.
TH provides individual engineering solutions for each stage of the specific project being considered. We can also combine the stages into an integrated solution.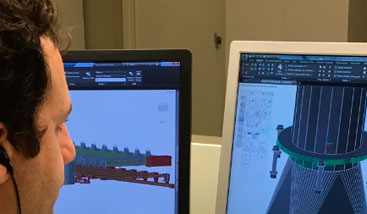 Viability studies:
Preparation and development of project descriptions, preliminary designs for project specific flow diagrams, estimating costs and investment requirements.
Basic engineering
Preparation and development of the final basic design for the flow diagram and implementation, descriptive studies with technical specifications, mass balance models ancillary requirements and planning, plus investment analysis.
Detail engineering:
Preparation and development of a more detailed project description with a flow diagram, implementation list of equipment, specifications for bought-in equipment, construction plans for structures, plate-work and piping calculations, mass balance models, detailed implementation planning, ancillary requirements and cost estimations.
Implementation engineering:
Monitoring and control of project implementation via the supervision of manufacturing, shipments from suppliers, logistics, incoming goods, assembly and commissioning of facilities.
Thanks to the industrial vision gained through participation in many projects, the technical staff at TH is well placed to offer a wide range of efficient, profitable engineering solutions for various treatment processes in a wide range of industries and activities including mining, industrial minerals, aggregates and the environment.
The multidisciplinary expertise of the technical staff at TH means that they also know how to manage projects and how to prepare and set up process facilities in the mining, industrial minerals, aggregates and enviro industries and to ensure that the relevant quality standards and requirements are met.